Welcome!
The Virtual Genealogical Association is a global organization serving family history enthusiasts of all levels, geared towards those:
whose circumstances make it difficult to attend local genealogical society meetings
who prefer online presentations, special interest groups (SIGs), conferences, and socializing
with an interest in connecting, networking, and mentoring with global genealogists.
Find Out More About VGA
We invite you to join us at our monthly online meetings, and for ongoing discussions in our Facebook Group. Our goal is that this SIG will help you advance your Hispanic research from the comfort and convenience of your home or wherever you have an internet connection.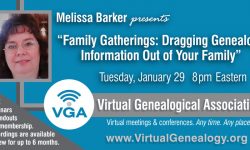 Family gatherings, we all have them. Whether they are annual events like family reunions or one time occasions like birthday parties, Father's Day, weddings or funerals, this is a time when our family members come together. This presentation will give you tips and tricks to get your family members talking about family history, even if they don't want to!
Newspaper research can help further genealogy research. A name in a newspaper can pinpoint a location for an ancestor at a particular time. Mentions in the legal notices, property records or shipping notices columns provide clues for additional research. Learn 20+ tips for getting the most out of newspaper research.